Femmine : Okonor Naomi & Noodjii.....Queens : Okonor Naomi & Noodjii


Ci sono due femmine presenti nel mio allevamento: Okonor Naomi & Noodjii.
There are two females in my cattery : Okonor Naomi & Noodjii.
---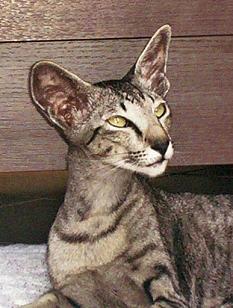 OKONOR NAOMI
osh n24 black spotted tabby
( Father : Okonor Imhotep. Mother : Shonstar Pearl Belle of Okonor )
Dopo quasi un anno di attesa finalmente il suo arrivo il giorno 05 settembre 2005 ! La mia prima femmina orientale. Pochi giorni dopo il suo arrivo eravamo gia' inseparabili. A distanza di qualche anno posso confermare che il feeling che ho con lei, non l'ho provato con nessun altro gatto. Lei e' la matriarca del mio piccolo allevamento, una madre splendida. Anche se non e' perfetta nello standard di razza,i suoi risultati riproduttivi sono super! Il suo temperamento,fin dal suo arrivo,mi ha chiarito il significato di "gatto satellite". La amo. Grazie Nemeth Laszlo per questa "ragazza" in panni di gatta!
* * * * *
After almost one year waiting she is arrived on the 05th of septermber 2005 ! My first oriental female cat. A few days after we were inseparables. Feeling with her is like no others. She is the matriarch of my breeding, splendid mother. Even if she is not perfect for standard race,litters out from her are super! Her temperament, since beginning , gaves me a clear explanation of the meaning "satellite cat". I love her. Thanks Nemeth Laszlo for this " girl " in cat clothes !
* * * * * * *
---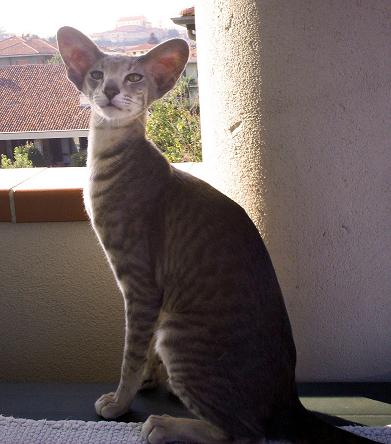 Noodjii
osh a24 blu spotted tabby
( Father : WW'06'07 GIC Michelangelo D'oltremare JW. Mother : Okonor Naomi)
Figlia di Michelangelo,l'ho vista nascere, crescere e diventare piu' bella giorno dopo giorno. Sono orgoglioso di lei.
* * * * *
She is a Michelangelo's daughter, I've seen her borning, grow and become so beauty day by day. I'm so proud of her...
---
* * * * * * *
* * * * * * * *