Fin da bambino ho avuto una indescrivibile passione per gli animali. La mia fortuna e' stata quella di avere una mamma ( Anna ) che a sua volta provava un vero amore per le creature terrestri. A casa mia,si puo' dire,entrava di tutto. Insetti,roditori, tartarughe,volatili,una coppia di serpenti,cane e gatto onnipresenti e persino un babbuino maschio di nome Stefano. devo ringraziare lei se non ho mai avuto bisogno della Pet Terapy della quale oggi tanto si parla,deve essere terribile crescere senza poter conoscere da vicino un animale,quanti sono i genitori che ancora negano ai figli la gioia di possedere anche un solo piccolo animale domestico come il criceto. Mia mamma si e' chiesta probabilmente se io non avessi avuto bisogno di Human Terapy , poiche' da piccolo non ero molto interessato ai giochi con i compagni,la mia attrazione erano le formiche e le creature acquatiche. Spendevo tutto il mio tempo libero cercando di costruire un formicaio oppure travasando strane e piccole creature in vasetti di vetro trasparente colmi di acqua. Avevamo vasetti di vetro ovunque e io li chiamavo ,ambiziosamente,acquari. La passione per i gatti di razza e' arrivata piu' tardi,nel 2002, e la passione per i siamesi ed orientali proprio in quel periodo,dopo aver visto un reportage su una mostra felina ad un programma televisivo. Mi dicevo...che bello sarebbe avere un piccolo felino che sinuoso ed elegante ,mi tiene compagnia quando sono a casa. Inizio' cosi' la ricerca del gatto tipo...putroppo la fretta e l'impazienza a volte fanno fare le scelte sbagliate. Trascorrevo tutto il mio tempo libero a cercare su internet tutti gli allevatori di questa razza,ho passato intere notti leggendo pedigree di gatti cercando di capire qualcosa,le linee di sangue,i colori,insomma..ero veramente preso dalla voglia di sapere. Si fa salda in me la voglia di partire con un progetto,seppur piccolo,di selezione e miglioramento di questa splendida razza. Finalmente un giorno,uno dei tanti allevatori che avevo contattato mi risponde dicendomi che aveva un cucciolo che poteva andare bene per me. E' un allevatore piuttosto famoso,al quale avevo chiesto un cucciolo femmina per dar inizio a quel piccolo progetto di selezione che ormai mi aveva preso la mente per intero.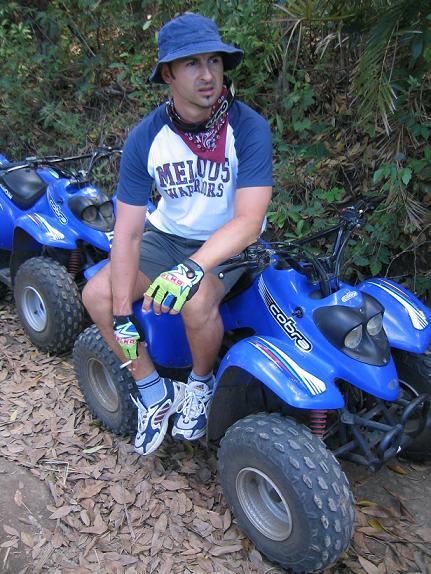 Since I was a child, I've always had an icredible passion for animals. My fortune was that my mum (Anna) was very keen on animals too. I've brought almost every kind of living being at my home : insects, rodents, turtles, birds, a couple of snakes, cats and dogs were omnipresents and even a male o baboon called Stefano; I must thanks her if I never needed of the well known Pet Terapy, it must be terrible to grow up without having any contact with an animal, there are many parents that still deny to their child the joy of living with a small animal like an hamster. Probably my mother wondered if I needed of Human Terapy, cause when I was young I wasn't that interested in playing with my friends, my real passion were ants and fishes. I used to spend all of my spare time trying to build an anthill or putting strange little creatures into small vases made of transparent glass full of water. Those vases were everywhere and I used to ambitiously call them aquarium. The passion for pure breed cats came later, in 2002, and the passion for Siamese and Oriental cats almost at the same time, after watching a reportage on a cat show on tv. I tought about how exciting it would have been to have a small wiggly and elegant feline to keep me company when I was at home. So I started looking for THE cat. Unfortunatelly 'cause of impatience it may happen to take wrong decisions. I used to spend all of my spare time on internet looking for websites of breeders of siamese and oriental cats, reading pedigrees and trying to figure out something about blood lines, colours and so on, I really wanted to know. That's when I realized that I wanted to start my own project, even a small one, of selection and improvement of that beautiful breed. Finally, one day, one of the breeders I had contacted answered me that he had a kitten perfect for me. He's a well known breeder and I asked him for a she cat to start my breeding project.

top page
* * * * * * * *
Grazie Elena Francioli !